OFERTA DE EMPLEO: Doctor en Fitopatología Vegetal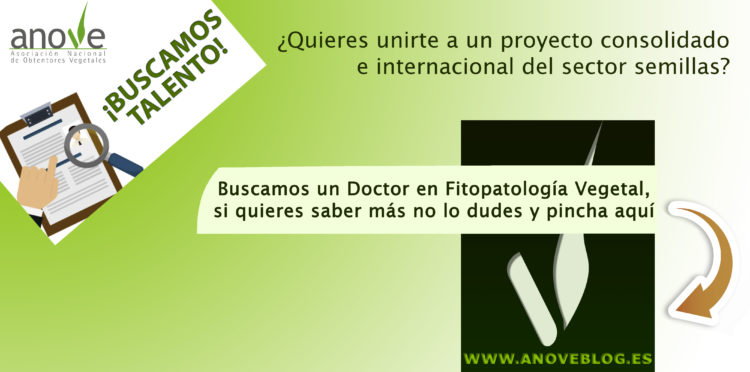 Buscamos un #Phytopathology Jefe de #Investigación para unirse al equipo ANOVE en Madrid (España). Este papel incluye la investigación de laboratorio, el trabajo multiinstitucional y la comunicación efectiva con las partes interesadas. Esta posición ofrece un papel destacado único en la comunidad internacional de crianza de plantas de I+D y una gran visibilidad en el sector fitosanitario como socio privilegiado de empresas privadas y laboratorios oficiales de todo el mundo.
Tasks
• Stay up to date on developments in the plant disease field.
• Conduct laboratory research on pathogen detection in seeds.
• Lead experiments for diagnosis and detection of viral and bacterial infection in seeds.
• Coordinate international groups in order to unify methodological protocols.
• Lead on research grant discovery, grant writing; eventually co-author research papers
• Build relationships with stakeholders (associated companies, collaborators and public administration).
Requirements
About you
• Demonstrated experience in the plant disease field through technical experience or academic research (PhD required) in plant pathology, seed phytopathology and classic microbiology.
• Significant interest (experience a plus) in the development of methods of pathogen detection in seeds.
• Proficient in desk and bench research, experimental design, funding proposal application and statistical analysis.
• Leadership role; eager to build, inspire and motivate a small team.
• Interest in technology transfer, agriculture innovation, plant breeding and food security.
Skills and Attributes
• Capable communicator both internally for smooth interpersonal/team collaboration, as well as externally (associated companies, public administration).
• High English level both written and oral.
• Flexible, conciliatory and objective-oriented attitude.
• Demonstrated ability to work in teams and collaborate successfully – not only produce independently.
• Self-motivated, resourceful, dependable, proactive; execution and solution-oriented.
• Organizational skills for oneself and team: time management, ability to independently prioritize, plan, set and meet deadlines, manage multiple workstreams.
• Knowledge of next-generation sequence (NGS) technologies, biostatistics as well as classical microbiology (isolation, inoculation, pathogenesis testing, etc) will be a plus.
Benefits
Our offer:
• Base salary (depending of experience).
• Full-time permanent position.
• High flexibility in working time management.
• Principal investigator role in a small research group.
• Exciting research environment in our laboratory located at the Instituto Nacional de Investigación y Tecnología Agraria y Alimentaria- INIA in Madrid.
• Unique knowledge-transfer role as the scientific liaison between the plant breeding sector and the basic research environment.
• Leading role in the international R&D plant breeding community and high visibility in the plant protection sector as a privileged partner of private companies and official laboratories around the world.
Our values:
We believe in innovation, responsibility, transparency, leadership and compromise. ANOVE wants to contribute to our society through plant and seed innovation allowing agri-food sustainability and rural development.
Besides your knowledge, skills and experience, we want you to share our vision.
More information: https://talentocientifico.com/ofertas-empleo.html?fbclid=IwAR0mMNNOxkUEjzFN8IE4o_Xwm7YZU-V7mInRYKjRHUZmJNtykhJl7TKf-UU